OUR THANKS TO YOU COULD'NT BE BIGGER!
YOU HAVE MADE THE ALMOST IMPOSSIBLE POSSIBLE!
And if we are honest: When we started as probably the most unknown unknown band in the world to put our songs and videos on YT, this number was so unbelievably far away that none of us could have ever imagined to even come close to this! And completely without the support of a record company, completely without an advertising agency, without a big budget, without agents, contracts and management professionals! We are very happy that you, our loyal fans from the beginning, have made the almost impossible possible! By sharing, liking and spreading the word.
We would also like to take this opportunity to say a huge thank you especially to the curators and music connoisseurs at Groover and SubmitHub for discovering us on a daily basis and including us and our songs in their numerous playlists!!!! YEAH!!!
And we wouldn't be Chancy Squire if we rested on our successes now. That's why we are already recording the next single and video for you. Even more: Our 3rd studio album (!) is also in the works! After that we will really have enough material together to perform LIVE again! We can't wait to see the best fans in the world again: namely YOU!!!!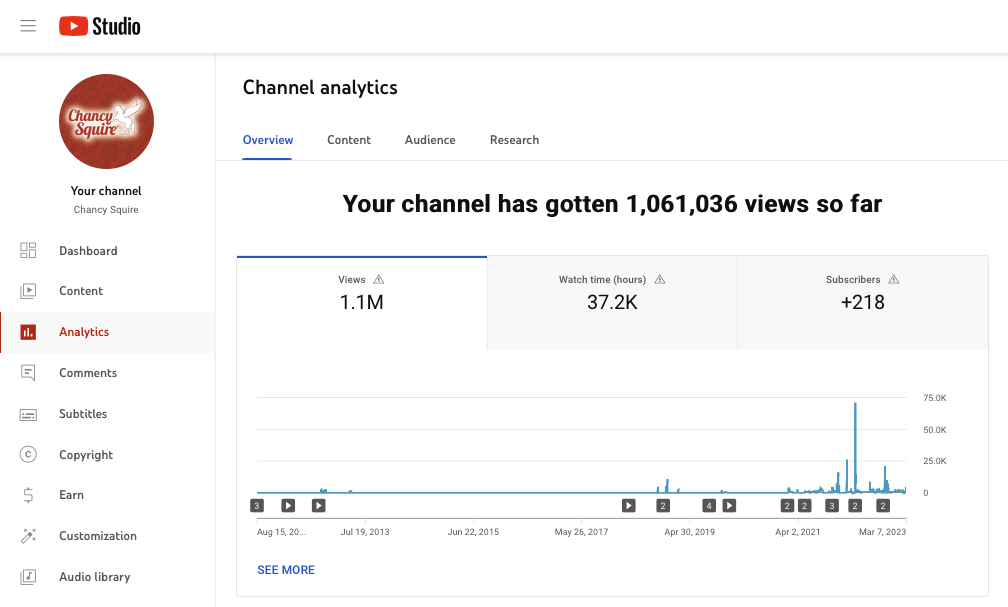 Ihr habt das schier Unmögliche möglich gemacht!
WOW! Wir können es überhaupt nicht fassen: Über 1 Million Aufrufe bei YouTube! Und wenn wir ehrlich sind: Als wir anfingen, als die wohl unbekannteste unbekannte Band der Welt unsere Songs und Videos bei YT reinzustellen, war diese Zahl so unglaublich weit weg, dass keiner von uns sich jemals hätte vorstellen können, das auch nur annähernd zu erreichen! Und zwar völlig ohne den Support einer Plattenfirma, ganz ohne Werbeagentur, ohne großes Budget, ohne Agenten, Verträge und Managementprofis! Wir freuen uns jedenfalls riesig, dass Ihr, unsere treuen Fans der ersten Stunde, das schier Unmögliche jetzt möglich gemacht habt! Durch teilen, liken und weitersagen:
UNSER DANK AN EUCH KÖNNTE NICHT GRÖSSER SEIN!!!!!
An dieser Stelle sagen wir insbesondere auch den Kuratoren und Musikkennern von Groover und SubmitHub ein riesiges Dankeschön dafür, dass sie uns täglich neu entdecken und uns mit unseren Songs in ihre zahlreichen Playlists mit aufnehmen!!! YEAH!!!
Und wir wären nicht Chancy Squire, wenn wir uns jetzt auf den Erfolgen ausruhen würden. Deshalb sind wir für Euch schon dabei, die nächste Single und das nächste Video für Euch aufzunehmen. Mehr noch: Unser 3. Studio-Album (!) ist auch in Arbeit! Danach haben wir dann wirklich genügend Material zusammen, um wieder LIVE aufzutreten! Wir können es kaum erwarten, die besten Fans der Welt wiederzusehen: nämlich EUCH!!!